Apply for Medicaid
Many groups of people are covered by Medicaid. Even within these groups, certain requirements must be met. Medicaid eligibility requirements may include your age; whether you are pregnant, disabled, or blind; your income and assets; and whether you are a U.S. citizen or a qualified alien. Non-qualified aliens or undocumented immigrants may be eligible for emergency medical assistance only.
When you apply for Medicaid, the requirements listed above will be taken into account before a decision is made.  If you or someone in your family needs health care, you should apply for Medicaid even if you are not sure whether you qualify or if you have been turned down in the past.
Gateway Logo.png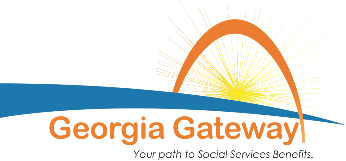 The Georgia Gateway Customer Portal is a website that allows individuals and community-based organizations to screen, apply for, and renew a broad range of public service benefits administered by various state agencies in Georgia. Georgia Gateway is a self-service web portal where new and existing customers can apply for, manage, and renew their benefits for up to six programs. In addition to being able to request benefits, customers with a Customer Portal account can also check the status of their application once submitted, view details about their benefits, and report changes. To apply for Medicaid please visit the Georgia Gateway Customer Portal.
Additional information can also be found in the  Understanding Medicaid booklet  and Understanding Medicaid booklet (Spanish) .
Paper Medicaid applications in English and Spanish can also be found at the bottom of this page. 
How to Apply? - Related Files
How to Apply? - Related Files