GeorgiaFamilies3-color_hires-resize.jpg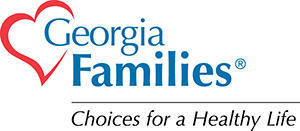 Georgia Families® is a program that delivers health care services to members of Medicaid and PeachCare for Kids®. The program is a partnership between the Georgia Department of Community Health (DCH) and private care management organizations (CMOs). Georgia Families provides members a choice of health plans, allowing them to select a health care plan that fits their needs.
Contacting Georgia Families
Members can visit www.georgia-families.com or call 888-423-6765 to speak to a representative who can give them information about the CMOs and the health care providers.
The three CMOs toll-free numbers for health care providers to learn more about enrollment with Georgia Families are provided below:
amerigroup logo_rebrand.gif

Amerigroup Community Care is a wholly-owned subsidiary of Amerigroup Corporation, the nation's largest company solely focused on low-income families and people with disabilities. To learn more about Amerigroup Community Care: 
CareSource-Brand-Logo-Vert-RGB-resize.png

CareSource is one of the nation's largest Medicaid managed care plans, CareSource has been providing life-changing health care coverage to people and communities for nearly 30 years. To learn more about CareSource:
peach-state-health-plan-logo-default.png

Peach State Health Plan (Peach State) is a physician-driven, Georgia-based Medicaid managed care plan. Backed by our parent company, Centene Corporation®, Peach State draws on financial stability and national expertise to deliver local services and programs. To learn more about Peach State: 
visit the website at www.pshp.com, or
call toll-free: 1-866-874-0633
Benefits
With a focus on health and wellness, the CMOs provide members with health education, prevention programs and expanded access to plans and providers, giving them the tools needed to live healthier lives. Providers participating in Georgia Families will receive assistance from the CMOs on educating members about accessing care, referrals to specialists, member benefits and health and wellness education.
Collaboration between CMOs and DCH provides a more efficient delivery of health care services and better care for members, and accountability to taxpayers, while maintaining predictable and sustainable growth for DCH.
Georgia Families - Related Files
Georgia Families - Related Files