Announcement Post It Note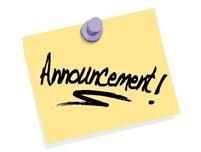 Posted 11/18/2022: HHCS Implementation Good Faith Exemption (GFE) Approval - On September 19, 2022, DCH submitted a GFE Request Form to CMS requesting an extension to the deadline to implement EVV for Home Health Care Services (HHCS). CMS granted an approval of the request on Thursday, November 17, 2022! Georgia's new deadline for implementing EVV for HHCS is now January 1, 2024. DCH is committed to working with members, providers, and vendors to meet training needs and implement a quality solution for HHCS as quickly as possible. To view the GFE request approval, click here .
Posted 7/27/2022: Training Portal New Website: As part of Netsmart's final rebranding efforts from Tellus to Netsmart, Netsmart is replacing the 4Tellus website with mobilecaregiverplus.com. The website branding will look different, however, it will function the same (e.g. same layout). Providers will still use the same user ID and password to access the provider portal and training as they did on 4tellus.com. Providers can access Georgia's EVV solution training at https://mobilecaregiverplus.com/ga-dch/.
Posted 7/21/2022: HHCS Implementation – DCH has fully implemented the State EVV solution, Netsmart Mobile Care+, for Personal Care Services (PCS); satisfying the requirements of Phase 1 of the Congress-enacted 21st Century Cures Act. Phase 2 of the Cures Act is underway. Phase 2 requires states to implement EVV for Medicaid-financed Home Health Care Services (HHCS) by January 1, 2023, to avoid a reduction in federal Medicaid funding. CMS is now accepting Good Faith Effort (GFE) exemption requests for states who would like an extension to the  implementation deadline to January 1, 2024. Georgia will submit a request this month.
The implementation for EVV for HHCS will consist of four milestones for HHCS Providers:
Registration Period
Training Period
Soft Launch Period, and 
Go-Live and Adoption Period
More details regarding the milestones and timelines for HHCS Providers are forthcoming. Please continue to check the EVV website or communications from DCH for updates!
Posted 7/21/2022: GAMMIS EVV Billing Exception – There is one (1) remaining exception to the January 1, 2022 EVV mandatory claims deadline. Only providers with a claim type tied to an open "Tier 2" (or higher) ticket with Netsmart can submit that specific claim type directly to GAMMIS. Providers submitting claims through GAMMIS without an open Tier 2 (or higher) ticket are subject to Corrective Action which may include denied claims payments or termination from the EVV Program. If you have questions or concerns about whether the remaining exception applies to one of your claims, please reach out to [email protected].
Posted 7/21/2022: Third-Party EVV Vendor Integration Deadlines – Providers have the option to use an alternative third-party EVV solution of their choice. The alternative third-party solution must meet all mandatory federal EVV requirements and integrate with the State EVV solution. Please note the following deadlines regarding the third-party integration process:
The deadline for initiating the integration process with Netsmart was March 31st, 2022. 

PLEASE NOTE: Third-party vendors needed a signed contract/attestation with Netsmart and an active user in Georgia by March 31st, 2022, to integrate. 

The deadline to fully complete the integration process with Netsmart was June 30th, 2022. 

PLEASE NOTE: All third-party vendors with a signed contract with Netsmart and an active user in Georgia had to complete integration and be in production by June 30th, 2022. If they did not complete integration by June 30th, 2022, the vendor may not be allowed to participate in Georgia's EVV Program. Vendors should contact

[email protected]

to request a post deadline integration consideration.
You can find a list of approved EVV vendors and those in the process of completing the integration process here. 
Upcoming DCH EVV Events
DCH EVV implementation events are happening! Check the EVV Schedule of Events page regularly for updates regarding EVV events. - Posted 01/14/2021
Electronic Verification CTA